Feature Stories
#HumansoftheHighComm #GreatMatesAUSG #ConnectedByDegrees
Follow us on Facebook, Instagram and LinkedIn to be the first to know when new stories are added.

Nathanael Koh
Nathanael with the Head of the School of Music, Professor Kim Cunio, who is instrumental to accepting his ANU honours application.
Q1. How was your first Honours month at ANU?
My first Honours month at the Australian National University (ANU) was an incredible experience! I was elated to be surrounded by a talented group of classmates and experienced professors who have a wealth of knowledge and experience. Despite being the youngest student in the program, I was warmly welcomed and made to feel at home from the moment I arrived on campus.
The ANU Honours program in music is renowned for its rigorous curriculum, and I was eager to immerse myself in it. Led by Professor Kim Cunio, Head of the ANU School of Music, the atmosphere in the music department was electric, with students and professors alike buzzing with enthusiasm and passion. The level of expertise and professionalism displayed by the faculty and staff at ANU was inspiring, and I knew that I was in the right place to pursue my dreams.
As a minor, ANU is also concerned with my emotional welfare and overall wellbeing while studying in an environment dominated by young adults. Professor Lucy Neave, Associate Dean at the ANU College of Arts & Social Sciences (Student Experience and Integrity), meets up with me weekly to check up on me and guides me to the right sources for any help I may need in this new environment. This is further supported by a Case Manager from Student Safety and Wellbeing, Ms Nicola Whitelaw, who ensures that I have the guidance and support I require while studying at ANU.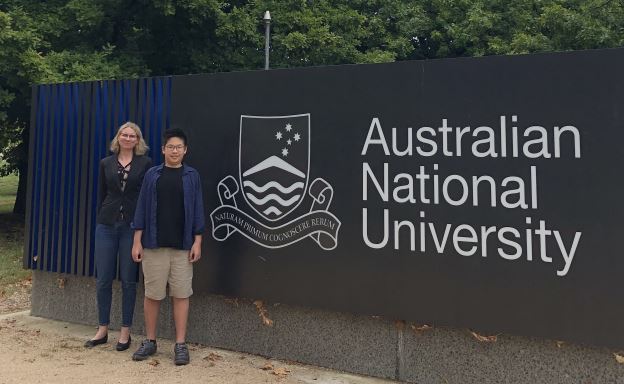 (Nathanael with Professor Lucy Neave, who has provided him with the emotional and wellbeing support at ANU.)
Overall, my first Honours month at ANU was an amazing experience! I felt supported and challenged in equal measure, and I look forward to the rest of my time at ANU.
Q2. As one of the youngest students enrolled in your course, did you face any difficulty getting on the same level as your peers?
Initially, I was worried about being ridiculed because of my age. However, this was not the case: everyone was genuinely supportive in and outside of lectures. Although all of us have different research projects, we can communicate together using music as our common language.
My peers are all very kind and friendly people who work on a variety of different areas: some working on music technology, film and video game music, while others (like me) find the limits of music theory and composition. Others focus mainly on using historical documents as part of their exegesis, but we all understand each other very well and manage to talk with each other in an engaging manner despite our differences.
I am proud to be a part of the inclusive ANU community and to have the opportunity to learn from and collaborate with such talented and supportive individuals.
Q3. Are there any musicians from Australia that inspire you? Who are they and why?
Absolutely! As a music honours student, I have had the privilege of studying and listening to many talented composers from Australia like Percy Grainger, Peter Sculthorpe, Cat Hope, and Liza Lim amongst many others. In my opinion, every composer is different in their own right, and each brings a unique perspective and style to their music. While some composers take their inspiration from nature, others find limitations to musical notation. This diversity is what makes each composer's work so distinctive and compelling.
Q4. What's your best piece of advice for Singaporean students who are planning to pursue higher education in Australia?
Singaporean students planning to pursue higher education in Australia should be open-minded. Moving to a new country can be an incredibly rewarding experience if you approach it with the right mindset.
Firstly, it is essential to keep an open mind about cultural differences. Although Australian culture does not vary much from Singaporean culture, one may still require some time to adjust to the new environment. One should take this as an opportunity to learn and embrace new experiences and perspectives which will enrich your Australian experience.
Secondly, it is important to be adaptable and flexible while staying in a new country. However, learning to adapt to new situations and being resilient in the face of adversity can also help you build important life skills that will serve you well beyond your time in Australia.
Lastly, make sure to take advantage of the many opportunities available to international students in Australia. Universities often offer scholarships, support services and social activities designed to help international students. Taking part in university clubs (like ANU Singapore Students' Association) and interest groups (like ANU Music Society) can help you meet new people, make connections, and build a support network during your time in Australia.

If you have any contributions or stories to share, please send an email to the Public Affairs team at the Australian High Commission: [email protected].